Taking Flight at HIA
March 2019 was the second busiest March ever at HIA as more and more people are choosing to fly from closer to home.
American Airlines is fueling this growth with more flights to more destinations around the glove than any other airline. And starting June 7th, American begins new daily nonstop service to Dallas/Ft. Worth!
Join us on Wednesday, May 29th at 7:30 am to learn how HIA and American's Business Extra Corporate Travel Program can help small and mid-sized companies reduce their travel costs. Interested companies can meet directly with American staff to discuss your specific travel needs. The event is free and will be held at the new Fairfield Inn and Suites Hotel located at HIA adjacent to the parking garage.
7:30 am – 8:00 am: Registration, networking and breakfast
8:00 am – 9:00 am: HIA and AA Presentation's with questions and answers
9:15 am – ?? – Individual meetings with AA sales
Click here to RSVP for the event.
Quick Facts about American Airlines at HIA:
AA is HIA's largest airline flying nearly 1,700 passengers each day to Boston, Chicago, Charlotte, Philadelphia and beginning June 7th—Dallas Ft. Worth.
AA nonstop destinations from HIA beginning June 7th: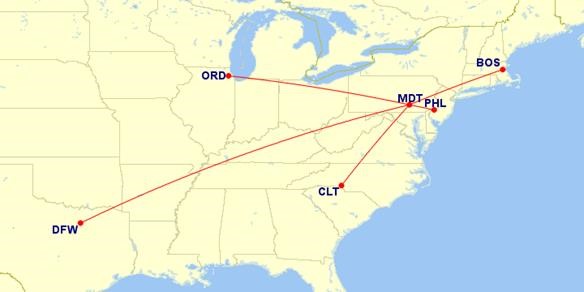 Beyond these hub AA passengers connect to destinations throughout the US and around the world.
CY 2018 Top US destinations on AA from HIA
1) Charlotte
2) Chicago
3) Orlando
4) Boston
5) Dallas/Ft. Worth
CY 2018 Top International destinations on AA from HIA
1) Cancun
2) San Juan
3) Punta Cana
4) Nassau
5) Grand Cayman Islands
New daily service to DFW will provide easier connections to destinations throughout Hawaii, Mexico, Asia, Central America and the Caribbean.